Forehead Feminized Surgery
Gender Affirming Surgery - Forehead Feminized Surgery
Dr. Shih
Forehead feminized surgery is becoming more and more important in the transgender field. When masks could cover most of the features of the face, the obvious protrusion of the forehead often needs more bangs or deeper makeup to achieve the effect of concealment. In the past, a prosthesis implanted over the forehead might be a routine option, but the height difference of the edge of the prosthesis or the transposition of the prosthesis often made people daunted.
Forehead feminizing surgery provided a larger nasofrontal angle and reshaped the orbital rim. This not only afforded a forehead fullness but also alleviated the orbit hollowness.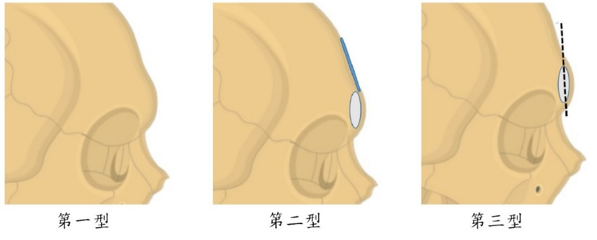 Classifications of masculine frontal sinus (Figure)
Type I
There is almost no air chamber in the frontal sinus, and the proportion of this population is the lowest. Usually, the protruding part could be shaved.
Type II
There are air cells in the frontal sinus. The protruding frontal sinus is accompanied by thinning and depression of the surrounding bone tissue. The prosthesis is usually used to achieve forehead fullness. This type is commonly seen in females. The protheses implantation is not suitable for those with large nasofrontal angles, like males.
Type III
There are air cells in the frontal sinus. The protruding frontal sinus is accompanied by significant orbital rim. The treatment mainly focused on protruding frontal sinus smoothing and the orbit rim reshaping.
The nasofrontal angles between male and females
Frontal angles
Male: 10±4˚
Female: 6±5˚
Nasofrontal angles
Male: 130±7˚
Female: 134±7˚
A comparison between preoperative (left) and postoperative (right) findings.
Pre-OP Note
Facial bone CT survey, hormone therapy suspended for 2 weeks.
Operation
Locationscalp incision about 4cm behind hairline.
Anesthesiageneral anesthesia.
Duration4-6 hours.
Targetfrontal bone set-back surgery + bilateral orbit rim reshaping + bilateral temporal area fat grafting.
Post-OP care
Drainage tube remove on postoperative day 2.
Remove scalp stitch on postoperative day 14.
Hair clearance with normal saline in 1st week after operation.
No smoking.
Possible complications
Scalp paresthesia, facial nerve numbness, eyelid edema, acute hair loss.